French Bulldog Breed Info
The French bulldog, things you need to know before selecting the French Bulldog breed.
French bulldog as the name implies comes from France.  However, history of this dog breed will tell you that French bulldogs are the dwarfed bulldogs that came from England.  French bulldogs are very popular and became a status symbol of the rich and the wealthy in the late 1800s.
Why do you think French bulldogs are very special?  Maybe because the frenchie is just adorable and maybe their sweet personalities?
Here are some French Bulldog facts and health issues for the breed.
French bulldog breed has standards to be considered as one.
Weight should not exceed 28 pounds or 14 kilograms.
Color acceptance to the standard may vary.  However, solid black, black and tan, mouse gray and brown are disqualifications.
A French bulldog is a great family pet and do not make good outside dogs.  The reason is that frenchies have difficulty adjusting their temperature.  Too much heat may be lethal to the frenchy.  They need protection such as shade and water to ensure survival outdoor.
These little lovable bulldogs are playful, amiable, and love to interact with people. They do not need much exercise.  Daily walk to the part may already be enough. The French Bulldog generally adapts well to any loving environment.
Having said, the French bulldogs are fit for families even for those leaving in small spaces like apartments, dog owners need to consider many health issues.  They are intrinsic in the breed and thus you may need to consult a breeder or a veterinarian if you want to adopt a French bulldog.
[caption id="attachment_1817" align="aligncenter" width="300" caption="French Bulldog Puppie"]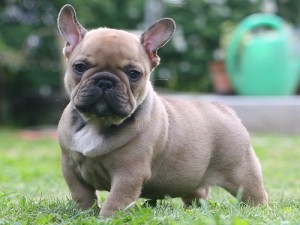 [/caption]
Health issues common to French bulldogs
Bleeding syndrome or Von Villebrand's Disease (VWD).  This is a congenital disease common among French bulldogs.
Thyroid problem is likewise common in this small breed of bulldogs.
Cleft palate or elongated soft palate, this is due to Brachycephalic syndrome, which causes the bulldog's face to flatten.
Eye problems are likewise common among French bulldogs i.e., glaucoma, cherry eye, corneal ulcers and retinal fold dsyplasia.  It is therefore necessary that the fold under the eyes to be clean and dry all the time.  This is to ensure that fold infection will not develop.
Back and spinal issue is likewise a possibility.  Aside from their dwarf body, their hyperactivity may result to spinal and back issues.
Breeding may be a problem for French bulldogs.  The dogs are difficulty to breed.  Often, breeders use artificial insemination to bitches if breeding is possible.
Because of health conditions, spaying is often more of an option rather than allowing the female to conceive
Dog allergies are likewise prevalent among the breed.
Because of health issues, before you adopt a French bulldog, you may need to check with the breeder on possible health defects that run in their line.  It is close to impossible that a particular French bulldog line does not have these health problems.  If the breeder is honest with you, he will tell you all the health issues that run in the dog's line.  If you are prepared for the forthcoming health issues, then you may consider bring this lovable and hyperactive indoor pet.
Here are some adorable French Bulldog Pictures