Dog Health Book
The Ultimate Guide to Dog Health
[caption id="attachment_1382" align="alignleft" width="217" caption="The Ultimate Guide to Dog Health"]
[/caption]
The Ultimate Guide to Dog Health book deals with all the common problems and ailments suffered by dogs. It covers issues like toothache and dental trouble, ear infections, skin rashes and chafing, eye irritations, worming issues, and lameness; chronic problems like vomiting, diarrhea, coughing, asthma, breathing trouble, and liver problems; more severe issues like arthritis and cancer; and symptomatic "alerts" like hair loss, lethargy, and behavioral changes.
You also learn how to pick up early warning signs by identifying and accurately interpreting your dog's body language; how to groom your dog quickly and effectively; how to take good care of his teeth and gums; how to administer medicine safely and easily; and how to recognize the early warning signs of health trouble through behavioral and physical changes. All this information is fully supplemented by full-color diagrams, photographs, and illustrations in this dog health book.
In addition to the fully-illustrated, 240-page guide itself, you also get a handful of tempting freebies: specifically, four bonus books.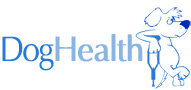 The Ultimate Guide to Dog First Aid, which is an incredibly useful resource for those situations requiring an immediate response (including how to perform the canine Heimlich maneuver and doggie CPR); "
180 Gourmet Recipes for Your Dog, which really teaches you how to indulge your pooch's taste buds;
101 Ways to Spoil Your Dog for Under $10, detailing all kinds of luxuries-on-a-budget and activities for you and your dog to enjoy together.
20 Super-Healthy Recipes for Your Dog – which proves that doggie health-food is as delicious as anything else! These books have a combined value of over $80 – not a bad freebie!
Learn more about Ultimate Guide to Dog Health
Other Dog Training Books: